The year's Mobile World Congress wrapped up on Friday and as usual this conference was the perfect platform for many of the industry's most recognizable players to announce their latest and greatest in gadgetry. Here's a look at upcoming devices that you're most likely you see popping in the enterprise:
Samsung strikes back with the S6 and S6 Edge
No sooner had the latest 2014 Q4 sales figures come out showing that Apple had surpassed its rivals in worldwide smartphone sales did Samsung fire back with its new handsets, the S6 and S6 Edge. Consumers are especially interested at this time to see if Samsung has done anything to distinguish itself from the rest of the Android market, which is flooded with low-cost alternatives that have been gnawing away at its market-share. The Galaxy S6 definitely sports some noticeable differences from the Galaxy S5 and even similarities to the iPhone, starting with design. This new iteration looks markedly more sharper and has a more upscale look and feel. Goodbye plastic frame, hello metal and glass. With the S6 Edge, they've also thrown in a curved glass display which extends half-way down either side of the device and give it a truly premium look. These models however are not waterproof like the 5, and the removable battery is no longer as well. The Exynos process is also a question mark and it will be interesting to see how it performs against the Qualcomm Snapdragon 810 used by most other Android
offerings, but its promised fast-charger claims it can boost your phone by 30 percent in 30 minutes. Both phones also have wireless charging built in. Although it won't announce Samsung Pay for another few months, an improved fingerprint reader demonstrates a readiness to handle mobile payments.
Both the S6 and S6 Edge, are virtually identical in size, so it will be interesting to see which of the two wins over more consumers, and if that will be enough to snatch back market share from the iPhone. They hit the market in April.
Microsoft angling to be budget kings with the Lumia 640 and 640 XL
Also coming out in April, Microsoft twin Lumia models are aiming to conquer the budget price-bracket with its new smartphone and tablet, the 640 and 640 XL. They come with a free one-year subscription to Office 365, which permits installing the software on one more laptop or PC. They both come in a plastic frame, but while the 640 looks and feels like a budget phone, the 5.7-inch 640 XL has a matte finish that gives it a much more polished look. Both have identical, 8GB storage and up to 128GB on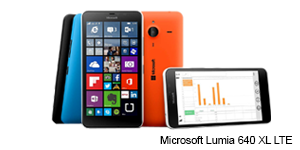 the microSD card. You also get up to 30GB of free OneDrive storage. But for consumers and BYOD users who don't want to fork over the kind of cash demanded by iOS and Android models, these Windows Phones offer an impressive incentive to give them a spin instead.
The 640 will run you just $155 US while the 640 XL will cost $240 US. It's widely expected that both of these models will be upgradeable to Windows 10 when Microsoft rolls them out in the fall.
How Will Silent Circle's Blackphone 2 Impact the Enterprise BYOD Model?
Swiss-based SGP Technologies first targeted security-conscious mobile professionals with the Blackphone last June. Its Blackphone 2 is a step up in design with an all-glass frame and larger HD display. It also includes more RAM and a longer lasting battery.
But more importantly, SGP revealed that they will now be shifting priority to selling its devices and encrypted comms software to enterprises. Blackphone's PrivatOS is considered a more privacy-focused Android OS, and the Blackphone 2 is designed to integrate with MDM systems.
Sony releases its new Xperia Tablet 3, no check that 4…!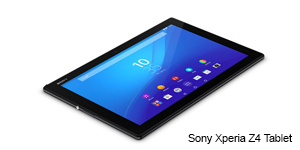 It seems like only a year ago the Xperia Z2 Tablet was announced at the last Mobile World Congress. Wait… yes… it was just a year ago! Then this past fall, the Z3 was unveiled. Now we're being told to get ready for new Z4 Tablet, coming out in June. The Z4 however is more of a direct successor to the Z2 as the Z3 had a much smaller display and competed more so with the iPad mini. Running Android Lollipop 5.0, the Z4 Tablet has a 10.1-inch display and 6,000 mAh battery which promises 17 hours of video playback.
The camera at the back provides an 8.1 megapixel camera, while the one at the front is 5.1 megapixel. The slate, featuring 32 GB of built-in storage, is also waterproof and dust-resistant.