When we're looking for a device nowadays that meets both our personal and business needs it's easy to forget how spoilt for choice our generation has become. Today keeping up with the torrid pace of mobile hardware and software aimed at making our lives easier can seem like a project in it of itself. But sometimes I remember a different time just before the consumerization of IT went mobile full throttle, when I decided that my laptop just wasn't enough and shopped for my first portable computer…
I remember it like it was yesterday. The year was 2006, and I was eating, sleeping and breathing my first venture, SysAid Technologies. We were a much, much smaller company back then – 30 people all-in-all. Three years after starting the company, SysAid began to hit stride in its development. Our ideas were taking shape, and our customer traffic was picking up steam and taking off. All of our sales were online, so we needed to receive orders and turn around customer issues 24/7. It was an exhilarating time.
But personally, I was feeling a new kind of pressure and like many entrepreneurs can relate, my notion of what a work-around-the-clock lifestyle meant was redefining itself all the time. Connecting to my business from my home or office simply wasn't enough anymore. I needed access to my work life no matter where I was. And I didn't want to carry two devices, one for phone calls and the other for computing. Off I went on my quest for my first BYOD device…
I'd heard about the latest PDAs coming out at the time and how they combined GPS and internet capabilities, with all of the cellular calling and messaging features I had on my Nokia 6010, which I was itching to replace. But what I needed more than anything was online access in a fast, easy, mobile-friendly way.
This was so I could keep track of my customers through our CRM and help desk applications. As I looked at my Nokia, I thought to myself, "Why would I get another cellular phone when I can have one device that can do it all". And then I discovered my first BYOD device: The HP iPaq hw6915.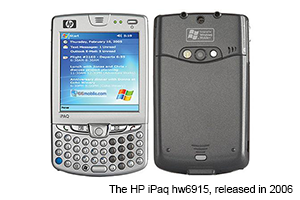 The features listed for this Windows mobile device more than impressed me – they had me at hello. This handset had received great reviews on its effortless Bluetooth connection and quick and reliable wireless network, which was vital for me to stay in the loop on all of the tasks and projects we were managing. The QWERTY keypad promised to blow away the T9 texting of my older device, and I could view applications on a 76mm color screen. I also thought the stylus pen was a nice touch and expected it to become a go-to tool that enhanced my user experience.
In addition to my mobility needs, the iPaq was just as alluring for the gadgetry that could enhance my personal life. I was excited to use the GPS navigation for family or business trips. "I now have a tool that will change my life", I thought excitedly.
But like those summer blockbuster films with eye-popping trailers that almost always end up disappointing, I realized pretty quickly that my new gadget wasn't the smoothest tool in the shed. Completing phone calls took longer than it should have which was surprising even back then, and browsing the internet was rough and cumbersome to say the least. My screen looked back at me as if it was screaming "stop trying to cram your desktop interface into me!" I tried to ease both of our pain by using the zoom function, which was particularly brutal. Mobile UX was just an unconfirmed rumor.
After my first week of using the iPaq, it was heartbreakingly obvious that this device wasn't what I imagined. I looked forward at least to using this phone's GPS on a weekend road trip. Because the phone didn't come with any navigation software out of the box, I installed some very expensive software but even then it still wouldn't work properly on the device.
My vision of finding the device that could do it all had been swiftly and unequivocally shattered. One week was all it took for me to make the divorce complete. For the time being, my solution was to go right back to my old Nokia phone and my laptop.
One year later, my friend kept raving about another new and hyped device, Apple's first iPhone. I wasn't on the Apple bandwagon like many others back then and was hesitant to buy into the hype. When a coworker showed me his and let me play with its features, I saw how easy it was to browse and pinch in and out of web pages and photos.
I like much of the rest of world knew smartphone technology had just taken an evolutionary leap. I was sold hook, line and sinker. Don't get me wrong, the first generation iPhone was far from perfect and I remember losing a lot of dropped calls. But as far as its browser and email, I was able to use my most critical business applications in a way I'd never experienced before on a mobile device.
This may have been before BYOD became the buzzword for the age that our enterprise culture was heading, but innovations that helped make mobile productivity easier were partly what inspired me not just be a BYOD believer, but to contribute to the advancement and security of our mobile work experience.
Today, as I continue to learn and work with my team at Nubo towards making Virtual Mobile Infrastructure the new BYOD reality, I still never fail to get a kick out of the innovative devices, apps and wearables that are transforming both our work and life. Every now and then I get taken back to the first time I tried to BYOD with my HP iPaq and it's amazing how far we've come. Perhaps the only thing more amazing, is where we're going.