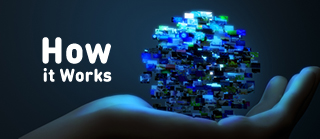 The foundation of Nubo's unique VMI technology is a remote Android platform running in the data center, a highly optimized communications protocol, and a thin client app on the device.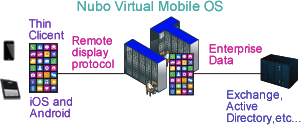 Nubo App
The Nubo app is a thin client on the employee's mobile device that is merely a reflection of the remote platform in the eyes of the end user. Since every work environment is remote, it leaves zero work data on the device. The apps are running on the server and a thin app just displays the output. The information within the device is flat and not analyzable. The Nubo app can be obtained from the Google Play or iPhone App stores and is available for iPhone, iPad, Android devices and HTML5 browsers.
UX over IP Protocol
Nubo's patent pending UX Over IP protocol is a groundbreaking remote display protocol that was developed specifically for optimal performance and user experience on mobile OSs such as Android and iOS. End users will enjoy a seamless and native user experience working with remote apps, while only display commands are ever transmitted by the protocol from the server to the device.
Running optimally on 3G networks and up, UX Over IP automatically, dynamically and constantly detects the bandwidth and quality of each mobile device's communications channel. This enables enterprises to detect and avoid data bottlenecks and improve bandwidth efficiency by capitalizing on available device bandwidth. As a result, mobile teleworkers receive optimal performance and user experience. UX over IP also delivers:
• Automatic adaptation to any device's display size
• Touch screen functionality
• Communication with mobile sensors such as rotation and location
• Bandwidth efficiency
• Minimal latency
Nubo Platform
Nubo has created a customized Android platform that runs in the data center on Virtual Machines (VMs). Each VM can run multiple user sessions. This enables Nubo to run on all of the popular server virtualization products such as VMWare and Citrix. Each user session is live on one platform while the user logs in to the Nubo environment. That session runs the user apps in that VM. The user's files and data are located separately from the VM on a storage.
The Nubo Cloud
All of the components of your corporate data center are placed on the Nubo Cloud. You can choose to have these components hosted by Nubo or on-premises in your data center. Nubo is capable of running on organizations of any size. Each component of the data center can run as many instances as needed to ensure load balancing, fail over and reliable performance.
Access to Organization Data
The apps that are running on the Nubo cloud need to access real organization data that reside on the organization's data center or cloud. With Nubo, access to this data is easier and safer because you need to allow access from one controlled location. In addition Nubo also includes out-of-the-box integration to common services.
Multi-Regional Behavior
Nubo's mobile platform ensures a swift connection from anywhere in the world. Each time a user logs in to their workspace, a new session is created and assigned to an available platform. When the user logs out, all new data from the session is automatically synced simultaneously between all regions.
Virtual Machines
Using Nubo's native mobile virtual platform enables you to run all of your virtual devices on the x86 VM of your choice, including:
• VMWare ESXi
• Citrix XENServer
• KVM
• Amazon Web Services (AWS)
Resources
Download Nubo's System Overview